We welcome your child and family to Stepping Stone World preschool and look forward to building a partnership with you in the early care and education of your child. Our purpose is to provide an environment for your child that is safe, secure, and developmentally appropriate. Our program focuses on the whole child, which encompasses and develops all areas of a child's development; cognitive, social/emotional, creative, and physical.
Please read this handbook thoroughly, as it covers very important policies and procedures that not only govern our childcare contract agreement, but also pertains to the care of your child. You will be notified in writing of any changes that may occur. If you have any questions, please do not hesitate to ask.
OUR PHILOSOPHY
We follow High Scope style curriculum based on weekly themes. The High Scope program is based on the theory that children need active involvement with people, materials and ideas. In this adults and children learn together. Children are encouraged to make their own choices about materials and activities and teachers supports this.
Stepping Stone World provides the loving, caring and learning environment for kids from age 2 years to the entry of first grade. We do lots of hands-on experiences like finger painting, play-dough and other art and craft activity which encourages exploration, stimulates ideas and creativity. In our preschool program we meet the children's individual needs with love, care patience, and understanding.
Our staff works to develop each child individually by recognizing their unique differences. We provide sensitive and responsive care to help make your child feel valued at Stepping Stone World. We make kids very comfortable here by providing a home environment in which they will feel very secure and comfortable. We believe that kids learn better in a comfortable and playful environment. We have a free choice time during which teacher play with kids and try to develop the better understanding of their interest which helps them to plan the theme and curriculum based on the children interest.
Our curriculum is based on academics blended with play and fun. Through play your child will learn social, interaction and language skills. Most part of their social and sharing skill will comes by playing in a group.
We foster the process of self-creation by providing an environment in which the child can develop independently at his or her own pace while still gaining necessary social, physical, intellectual and emotional skill. We understand that each child is different and has different needs and strength; their pace of learning is also different. So we provide the appropriate tools which encourage them to participate in the activity of their choice.
At the end of the preschool and pre-k program your child will ready to go into the kindergarten with following skills.
Classes & Programs

We have full time and part time program available

We follow High Scope style curriculum, based on weekly themes. Most of the c

hildren learn best through hands-on experiences with people, materials, events, and ideas. We provide the tools that stimulates these idea.
Small Class Size
We have 1:9 teacher-to-student ratios, which allow us to focus on the individual learning styles and needs of each child in our preschool.
Our Teachers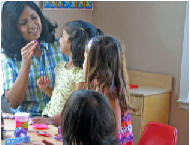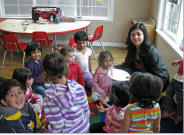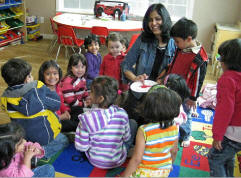 Manisha Sharma (Director)
Mrs. Sharma has been teaching in school from last 10 years, p

reviously she worked in Don Callejon and Rainbow Montessori.

She has multi subject credential from California and 30 units in child development and director credential from California Teacher Credential Board. Her other qualification also includes diploma in creative art and fashion designing. She is focused on each child's needs, and her teaching style keeps her students engaged in their learning. She continues to learn about educating young children and enjoys studying new theories on child guidance and enacting those she believes will improve the abilities of her students.

Shalini K
umar (Teacher)
Mrs. Kumar has been teaching in preschool from last 7 years. She has Master in History and Bachelor's degree in teaching. Her warm and energetic approach to teaching helps each child to feel comfortable and confident. Her hobbies include art, painting, crafts, ceramics and reading which will enable her to explore creativity with her class. Her goal is to make preschool fun while unfolding the children's confidence so that they are ready to do well when their elementary school.


Naomi Allar (Teacher)